CP/M systems
Ampro LittleBoard

[Ampro LittleBoard] Condition: defect , setup


This is one of my favorite systems, unfortunately it is malfunctioning (harddisk crash and probably controller problems). Since there are two floppy drives installed I can still use the system. Special thanks to Don Maslin for sending me the disk images. On "Gaby's Homepage" you can find more information about CP/M, including the most recent FAQ (mirror) and where to get system disks.

There is also a directory with a few Ampro related files.
EPSON PX-8

[ EPSON PX-8] Condition: working , stored
No external devices.
ROM's: UTY (utilities), BASIC, Portable WordStar, Portable Calc, Portable Scheduler.
OS: CP/M 2.2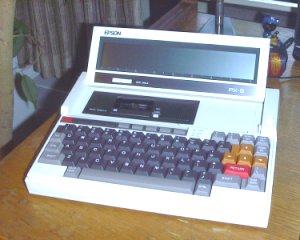 Very nice CP/M computer. You can find a lot of info on Yet another computer museum - The Epson PX-8, regarding this system.

For technical documentation, see: http://www.bitsavers.org/pdf/epson/.

Fred-Jan Kraan has assembled a text on the use of Filink and a package filink.zip which contains filink.c, epslink.asm and filink.exe.