EPSON
EPSON HX-20

[ EPSON HX-20] Condition: working, stored
Power-adapter
OS: Unknown, Built-in Basic and Monitor
A very nice portable system.
For documentation and technical info: HX-20 technical support at Epson.

EPSON PX-8

[ EPSON PX-8] Condition: working , stored
No external devices.
ROM's: UTY (utilities), BASIC, Portable WordStar, Portable Calc, Portable Scheduler.
OS: CP/M 2.2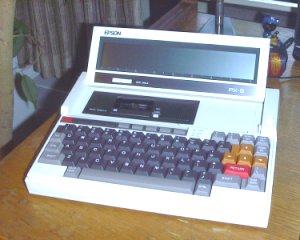 Very nice CP/M computer. You can find a lot of info on Yet another computer museum - The Epson PX-8, regarding this system.

For technical documentation, see: http://www.bitsavers.org/pdf/epson/.

Fred-Jan Kraan has assembled a text on the use of Filink and a package filink.zip which contains filink.c, epslink.asm and filink.exe.